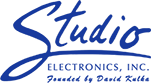 Your cart is currently empty
PRE Multilimiter (UREI BL-40) Optical RMS / FET Peak Limiter Works Great, Extras
SKU:
PRE.multi
Stock:
Out of Stock
Pacific Recorders And Engineering Multilimiter Optical RMS / FET Peak Limiter Works Great, Extras.

The Multilimiter was PRE's version of the UREI BL-40. Most often used for radio and broadcast production, it has a slow RMS limiting section that is followed by a fast FET Peak Limiter, with a wide range of make up gain at the output, with a Jensen output transformer.

The RMS section uses an enclosed optical cell and the Peak section uses an FET. The unit also has a positive threshold control but it probably wouldn't be used for recording, and can by bypassed by turning the control all the way down.

The limiting dynamics are aggressive, with a relatively long release time in the front end RMS section. The RMS section has no Threshold control, so you adjust the amount of RMS limiting with the Input pot. I found that for most material it was best to set the input control relatively low (8 or 9 o'clock) and add make up gain with the output pot for normal output level. The Fast Limiting" control in the Peak section is a Threshold control that lets you control the amount of peak limiting, or turn it off completely.

Cosmetic, mechanical, and electronic condition are excellent. All functions work. We're including XLR adapter cables, and a copy of the owner's manual. The unit is balanced transformer in and out. It is built for 110/120VAC 50/60 Hz.
Currently there are no reviews for this product. Share your opinion with others, be the first to write a review.