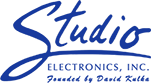 Your cart is currently empty
Gotham 10802 GAC-3 Ultraflexible 3-Conductor Double Shield Brown Mic Cable. GM
SKU:
10802
Stock:
300
Colors:
Black
Please note: this cable is sold by the foot, with a 10 foot minimum. Enter the number of feet you want in the QUANTITY box when ordering. We cannot process orders for less than 10 feet. This cable is not expensive to ship, but our shipping calculator is a little unreliable. If you are overpay for shipping during check out we'll refund the overpayment amount when we ship. Thanks.
Gotham 10802 GAC-3 Ultraflexible 3-Conductor Double Shielded Brown Mic Cable. (This is not the early type 10802, which was made in Austria.)

Why three conductors for an audio signal? Here are some answers:

Grounding/shielding: With the third conductor connected to ground, together with the two shields, RF-rejection is increased to 115dB (20dB better than standard) at 25 kHz. This is been confirmed in the AES paper by Mr Neil A. Muncy (Noise Susceptibility in Analog + Digital Signal Processing Systems) in November 1994. Gotham GAC-3 was named the best performing microphone cable available.

Round Construction: 3-conductor constructions are round constructions, and since the cable has the freedom to move in all directions, especially on the strain relief of a connector, the cable will survive more movement cycles.

Phantom Power: The 3rd conductor can be wired as a drain wire for a reliable connection of phantom power to the microphone without affecting the shield.

Each of the three conductors consists of 96 (!!) strands of 0.05mm copper wires being the finest stranding for audio cables available which gives you improved flexibility, better signal transport and longer lifetime (moving cycles). (Heavy duty version with 5.8mm Ø also available)

1 = Jacket: PVC, Ø 5.0mm, (10701-10716)
PVC, Ø 5.8mm, (10801-10803)
2 = Shield No. 1: Bare copper wires (0.10 mm) 100% coverage
3 = Shield No. 2: Bare copper wires (0.10 mm) 100% coverage
4 = Viscose fiber coat: Counter wrapped to the twisted triple
5 = Insulation (cond): PVC, Ø 1.2 mm, white, brown and green, twisted triple
6 = Conductor: Stranded bare copper wires 96 x 0.05 mm (0.20mm²)

LFOC higher grade copper at best standards for best performance.

Technical specifications:
Conductor resistance: < 95 Ohm/km
Shielding resistance: < 20 Ohm/km
Capacitance: cond/cond: <150 nF/km
cond/shield: <240 nF/km
Characteristic impedance: at 10 kHz: 150 ohm
Test voltage: cond/cond: 500 veff
cond/shield: 2000 veff
Operating voltage low voltage
Temperature range: flexi-installed: -5° to +50° C
fix-installed: -30° to +70° C
Currently there are no reviews for this product. Share your opinion with others, be the first to write a review.