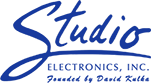 Your cart is currently empty
UREI BL-40 PLUS, LA-3A Opto / 1176LN FET Limiter Combined Full Recap/Refurb/Mods
SKU:
BL40
Stock:
Out of Stock
For sale is a UREI / Studio Electronics BL-40 PLUS. This is a UREI BL-40 Modulimiter that has been fully recapped and extensively modified by David Kulka and the techs at Studio electronics. It works and sounds fantastic and is almost like having an LA-3A and 1176LN in one box.

The BL-40 is a complex and very interesting limiter that was manufactured by UREI in the late 1970's. Essentially it's an LA-3A Optical limiter combined with a 1176LN FET type limiter. Your audio input hits the LA-3A section first, then passes through the FET limiter section.

These models were mainly used by radio broadcasters. The combination of the optical and FET limiter sections (called RMS and Peak by UREI) was designed for for maximum loudness. The optical section is almost exactly what is found inside an LA-3A, while the FET section is a simplified version of the 1176LN circuit, without Attack or Ratio controls. There are separate VU meters for monitoring RMS and Peak gain reduction, plus an output VU meter. They have transformer balanced inputs and outputs.

BL-40's are very unusual and useful limiters but they were designed for "set it and forget it" radio use, and some features of the original design made them hard to use in recording and mixing tasks. Several years ago, after a lot of R&D, we developed a group of mods that make the BL-40 great for recording applications, and a great deal price-wise.

These are the primary mods and updates:

Before mods, the stock unit had no knobs -- all the controls were recessed behind the front panel, and covered up by a second panel. We move the Input, Output , and FET ("1176") Threshold controls to the front. We also add a Peak Release TIme and Optical ("LA-3A") Threshold controls to the front panel. (Those controls were not included in the stock unit.) Also, we remove the "Phase Optimizer" which reduced overload problems with AM transmitters, but increased distortion.

Because we've added separate LA-3A and 1176 Threshold controls to the front, you can use either or both those sections, in any combination. You can use the LA-3A section to add compression and increase overall loudness, use the FET section to do subtle (or extreme) peak limiting, or both.

The BL-40 uses the rare T4C opto cell. These cells are similar to the T4B, but have a faster release time. If you want, we'll replace the T4C with a new T4 cell with standard release time, but the T4C makes this unit a little more special and we suggest leaving it in place.

Here are the specs:

Input impedance: transformer balanced 600 ohms, with 1176 type bridge-T input attenuator
Output impedance: transformer balanced 600 ohms
Input Level: -30 dBm to +25 dBm
Gain: 58 dB with controls at maximum
Frequency response: 30 Hz to 15 kHz, +0, -.8 dB
Distortion: Less than 0.5% THD 30 Hz - 15 kHz at +24 dBm output
Signal/noise ratio: Better than 70 dB at threshold of RMS limiting
Attack time, RMS (LA-3A) section: Signal dependent, 1 ms to 50 ms for 63% correction
Attack time, Peak (1176) section: 50 us for 10 dB limiting
Release time, RMS section: signal dependent, 50 ms to 2 seconds for 63% return, depending on duration of compression
Release time, Peak section: Adjustable with front panel control, 50 ms to 1.1 seconds for 63% recovery
Metering: 3 separate meters for RMS Limiting, Peak Limiting, and Output Level.
Input / Output connections: New 12" balanced Quad Star XLR adapter cables, made by Studio Electronics

A switch on the rear panel selects 115 or 230 volts. A (new) copy of the UREI owner's manual is included.


Currently there are no reviews for this product. Share your opinion with others, be the first to write a review.