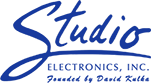 Your cart is currently empty
Studio Electronics Rack Mount Lighted Dual Sifam VU Meter Panel +4 Bal XLR In #2
Studio Electronics Rack Mount Lighted Dual Sifam VU Meter Panel, +4 Balanced XLR Inputs

We built and sold several dozen of these custom VU meter panels a few years ago and recently built a few more of them. These are a very practical studio accessory, especially for work station, computer based, and post production systems.

These panels are nearly identical to the Triplett Dual VU meter VU panels that we sell, but they use slightly larger Sifam VU meters.

This is a 3.5" high (2 RU) panel with two accurate, high quality Sifam VU meters and dual buffer electronics. Trimpots on each buffer board provide level adjustment -- the unit is designed for +4, but can be adjusted for sources with levels from -12 to +6, so it can be used with consumer level -10 signals, if desire . The VU meters are each illuminated by a lamp. The lamps are powered below their rated voltage for extended life.

The panel has a six foot cable with two female XLR's for the inputs. The panel is balanced high impedance in, and adding it to your system will have no impact on the sound quality or specs.

Please note: upon request we can include two XLR Y-adapters, each with 1 female XLR and 2 males, to provide a "through" connection with parallel outputs for the meter panel. The additional cost for two adapters is $60. If you want the adapters let us know, and we can add the cost to your ebay invoice or invoice you separately.

Also, upon request, we can install other types of connectors instead of XLR, such as RCA, 1/4" balanced or unbalanced, etc. There's no extra charge for this option, but please let us know at the time of purchase.

The Sifam VU meters are rugged and reliable, and feature accurate, familiar ballistics. If you're running a digital setup with peak indicators but no mechanical VU's, adding our meter panel will help you to judge the subjective loudness of your mixes. In addition, the high resolution of analog VU meters can be very handy for accurately calibrating input and output levels, and for analog metering of digital plug-ins.

The panel is rugged 3/16" aluminum, grained and anodized black (not just painted). The unit is powered by a small 100-240 volt power adapter that will work with any wall voltage. However please note that the power adapter had a US style plug and for other regions you will need to provide the correct socket adapter. This is a sharp looking unit, and a very practical addition for the home or project studio.
Currently there are no reviews for this product. Share your opinion with others, be the first to write a review.