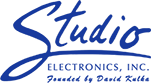 Your cart is currently empty
4000 and 4500 Series (MC14) CMOS Logic IC's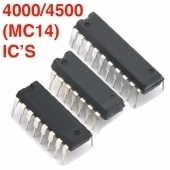 The 4000 and 4500 series (also seen with MC14 and CD4 prefixes) are a CMOS logic family that achieved widespread popularity in the 70's, 80's, and 90's. They were first introduced by RCA. low power consumption, a wide range of supply voltages and greatly increased load driving capability. They operate with 3-12 VDC; some can operate up to 18 VDC. Gate propogation delay ranges from 20-120 ns, depending on voltage.

These devices were made by all the major semiconductor manufacturers, and some used different prefixes for the same part. Electrically, the 4001, MC14001, and CD4001 are all the same.
These items in these listings are standard DIP IC's. Most packages are 14 and 16 pins, but some devices are larger.
• Most of these listings have no individual photos, but do indicate package type. In almost all cases our generic part number will be enough to match the part you need, but to confirm a correct match, click on the listing and check the package type in Overview section.
• About 90% of these items are from major manufacturers like Texas Instruments, Motorola, Dallas, Fairchild, Hitachi, National, NEC, etc., but some are unbranded or from minor manufacturers. All parts are unused and fully guaranteed. Some older parts show age from long-term storage, but this will not affect proper operation. None of our parts are counterfeit or B stock.

• You can always use the search box to find a specific part, but it's best to use the basic, generic part number, with no prefix or suffix.

• If you can't find what you need, please ask. Contact us.