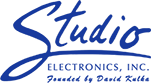 Your cart is currently empty
Lugs to Gold TT adaptor kit for UREI Pultec etc.
Here's a pair of super high quality adaptor cables for vintage gear that had screw type input and output connectors. You get two 7 foot cables, each with lug terminals on one end and Gold TT ("Bantam") plugs on the other end - a red one and a black one, for easier identification. The lugs are labeled + and - to avoid phase problems. We include a termination resistor, for proper impedance matching of output circuits.

These cables are perfect for UREI and Universal Audio LA2A'S, LA3A'S, and 1176's, Pultec EQP Tube Equalizers and other 60's, 70's, and 80's tube and solid state gear with screw terminals.

Our cables are hand made in America with Canare Star Quad Mic cable, with Canare and Neutrik connectors. Canare Star Quad Mic cable is highly immune to hum and interference, and has no handling noise. It's flexible, satin smooth to the touch and extra strong. They are rugged and are built to deliver many years of top quality performance. They are excellent interconnects for vintage outboard gear, amps, and recorders.

* Hand assembled at our Shop in Burbank, USA
* Canare Star Quad Microphone cable model L-4E5C
* No of conductors: 4 (Quad)
* Conductor: 21 AWG
* Braided Copper Shield
* Flexible in Extreme Cold Weather
* Cross Linked PE Insulation
* Reduced Handling Noise
* Rejects EMI and RFI
Currently there are no reviews for this product. Share your opinion with others, be the first to write a review.