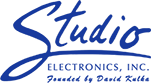 Your cart is currently empty
Gotham 10202 GAC-2/foil Balanced Installation Cable With Foil Shield
SKU:
10202
Stock:
9
Colors:
Black
Foil shielded installation cable using 7 x 0.20 mm tinned wires for IDT. Designed for wiring balanced audio signals in a metal environment. Aluminium foil is melt with the PVC-jacket and will come of automatically when the PVC-jacket is removed. The twisting of the each 7 strands is so tight that once peeling the insulation of, the strands do not come apart and the cable can be installed without additional handling.
LFOC higher grade copper at best standards for best performance.
Construction:
1 = Jacket: PVC, Ø 3.0mm, black
2 = Shield: Aluminium-Polyester foil
3 = Drain wire: Stranded tinned copper wires 7 x 0.20mm (0.22mm²)
4 = Insulation (cond): PE, Ø 1.1mm, twisted, black and red conductors
5 = Conductor: Stranded tinned copper wires 7 x 0.20mm (0.22mm²)
Technical specifications:
Conductor resistance: < 85 Ohm/km
Shielding resistance: < 65 Ohm/km
Capacitance: cond/cond: < 75 nF/km
cond/shield < 140 nF/km
Test voltage: cond/cond: 500 Veff
cond/shield: 1500 Veff
Temperature range: flexi-installed: -5° to +50° C
fix-installed: -30° to +70° C
Currently there are no reviews for this product. Share your opinion with others, be the first to write a review.