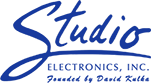 Your cart is currently empty
Gotham 10012 GAC-1 ultra Pro Guitar/Phono Cable (328 ft / spool)
SKU:
10012S
Stock:
Out of Stock
Colors:
Red-10011, Blue-10012, Black-10018
Length Per Spool:
328 ft.
Two major categories of noise affect all audio cables: electrical interference and micro-phonics. Unbalanced signal core audio cables are much more sensitive to electrical interference than balanced cables which, because of their twisted pair configuration, have the ability to mutually cancel EMI. Microphonic noise is coused by a static charge generated when the conductor is rubbed against its insulation. This occurs to some degree whenever the cable is moved. The microphonic effect is evident by a clicking noise in the system, usally occurring when the cable is handled or moved. Gotham GAC-1 unbalanced cable has been engineered to minimize these affects. Whith this ultra Pro version we have gone one step forward by adding yet another lawyer of conductiove plastic bbetween the conducter (7) itselfe and the isolation of the Conductor. Making a sandwich kind of conductive material between the 2 copper shielded and the conductor itself.
1 Jacket PVC, ø 0.21 in
2 Viscose fiber coat Counter wrapped to the shield
3 Shield No. 1 Bare copper wires (38 AWG), 100% coverage
4 Shield No. 2 Bare copper wires (38 AWG), 100% coverage
5 Layer PVC, conductive
6 Insulation PE, ø 0.05 in
7 Conductor Stranded bare copper wires, 48x41 AWG (24 AWG)

Conductor resitance < 30.5 Ohm /1000 ft
Shielding resistance < 8.5 Ohm /1000 ft
Capacitance < 44.5 nF /1000 ft
Test voltage 1000 V eff. (2 minutes)
Temperature range (flex) - 5° to +50° C
Currently there are no reviews for this product. Share your opinion with others, be the first to write a review.