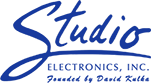 Your cart is currently empty
Gotham 10601 GAC-2 AES Low loss flexible AES cable
SKU:
10601S
Stock:
Out of Stock
Length Per Spool:
656 ft.
Colors:
Purple
Digital Audio signals in the AES/EBU format require an interconnect cable with the correct construction. A mismatch of the impedance, a too small conductor diameter (skin-effect) or an impedance change in a cable run will cause digital errors (jitter) which are causing costly problems on your digital recording
We have found the stability of the impedance the most critical point on an AES/EBU cable and our solution is the Star-Quad twisting of the two conductors with two PE-strands to hold the conductors always in place, even when the cable is being bent. Together with our unique double Reussen shield we have the perfect signal cable for AES/EBU Digital Audio without compromises in regard to flexibility and handling.
The GAC-2 AES is a low loss, flexible AES/EBU cable optimized for use with XLR-connectors or installations with
long cable runs (>100m).
1 Jacket PVC, ø 0.24 in, purple
2 Viscose fiber coat Counter wrapped to the shield
3 Shield No. 1 Bare copper wires (38 AWG), 100% coverage
4 Shield No. 2 Bare copper wires (38 AWG), 100% coverage
5 Stabilisation PVC foil
6 Cord (2) "PE", quad twisted with two conductors
7 Insulation Scum-PE, ø 0.08 in, white and red
8 Conductor Stranded tinned copper wires, 7x30 AWG (22 AWG)
Conductor resistance < 18.3 Ohm /1000 ft
Attenuation at 1 MHz 6.1 dB /1000 ft
Capacitance at 800 Hz < 13.4 nF /1000 ft
Capacitance cond /cond < 32 nF /1000 ft
Insulation resistance > 3.1 GOhm /1000 ft
Impedance at 1-6 MHz 110 Ohm ±2%
Test voltage cond /cond 500 V eff.
Test voltage cond /shield 2000 V eff.
Temperature range (flex) - 5° to +50° C
Temperature range (fix) -30° to +70° C
Currently there are no reviews for this product. Share your opinion with others, be the first to write a review.