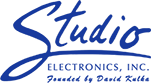 Your cart is currently empty
Gotham 10702 GAC-3 Ultraflexible 3-conductor microphone cable.
SKU:
10702 GAC-3
Stock:
Out of Stock
Colors:
Gray-10701, Black-10702, Black-10801
Why three conductors for an audio signal? Here are some answers: Grounding/shielding: With the third conductor put to ground, together with the two shields, we have increased RF-rejection to 115dB (20dB better than standard) at 25 kHz. This fact has also been conformed at the AES-paper held by Mr Neil A. Muncy (Noise Susceptibility in Analog + Digital Signal Processing Systems) in November 1994.
The GAC-3 was named the best performing microphone cable available. Round Construction: 3-conductor constructions are round constructions, and since the cable has the freedom to move in all directions, especially on the strain relief of a connector, the cable will survive more movement cycles. Phantom Power: The 3rd conductor can be wired as a drain wire for a reliable connection of phantom power to the
microphone without affecting the shield. Each of the three conductors consists of 96 (!!) strands of 0.05mm copper wires being the finest stranding for audio cables available which gives you improved flexibility, better signal transport and longer lifetime (moving cycles).
(Heavy duty version with 5.8mm Ø also available).

1 Jacket PVC, ø 0.19 in (10701 - 10716)
PVC, ø 0.23 in (10801 - 10803)
2 Shield No. 1 Bare copper wires (38 AWG), 100% coverage
3 Shield No. 2 Bare copper wires (38 AWG), 100% coverage
4 Viscose fiber coat Counter wrapped to the twisted triple
5 Insulation (cond.) PVC, ø 0.05 in, white, brwon and green, twisted triple
6 Conductor Stranded bare copper wires, 96x44 AWG (24 AWG)
Conductor resistance < 24.4 Ohm /1000 ft
Shielding resistance < 6.1 Ohm /1000 ft
Capacitance cond /cond < 45.7 nF /1000 ft
Capacitance cond /shield < 73.2 nF /1000 ft
Characteristic impedance at 10 kHz 150 Ohm
Test voltage cond /cond 500 V eff.
Test voltage cond /shield 2000 V eff.
Operating voltage low voltage
Temperature range (flex) - 5° to +50° C
Temperature range (fix) -30° to +70° C
Currently there are no reviews for this product. Share your opinion with others, be the first to write a review.