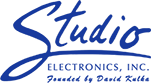 Your cart is currently empty
1.5mm Narrow Slot Black Slider Knob UREI Graph EQ PN 24-14929. UU
SKU:
24-14929
Stock:
Out of Stock
"
""Narrow slot"" 1.5mm Black EQ Slider Knob for UREI Graphic EQ, P/N 24-14929. Height is 3/8"", depth is 3/8"". Rear slot is approx. 4mm high and 1.5 mm wide. Perfect like new condition.
Note: UREI graphic EQ's used 2 different knobs -- they look the same from the front, the slots on the rear are different sizes. This knob has the NARROWER slots, to fit the smaller silver sliders (try saying THAT ten times) P/N 15-14549.
"
Currently there are no reviews for this product. Share your opinion with others, be the first to write a review.