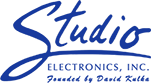 Your cart is currently empty
6 Vintage USA 6SK7 & 12SK7 Pentode Radio Tubes. Satisfaction Guaranteed. TM
Lot of 6 Vintage made in USA 6SK7 & 12SK7 remote-cutoff pentode radio tubes. Satisfaction Guaranteed.
3x 6SK7 & 3x 12SK7; All of them are metal except for one that is glass, one is GE.
6SK7 & 12SK7 are identical except for their heater ratings.
All in original boxes with one RCA 5-way sleave.
Tested on Precision Apparatus Model 10-12; where the minimum good reading is 54.
6SK7's: 60, 59, 57
12SK7's: 62, 62, 61.
Currently there are no reviews for this product. Share your opinion with others, be the first to write a review.