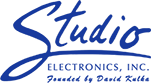 Your cart is currently empty
ADL-4300 / ADL-400 Analog Delay Module For Marshall 5402 Time Modulator, AR-300 Tape Eliminator. MI
SKU:
ADL.4300/400
Stock:
Out of Stock
New ADL-4300 ADL-400 Analog Delay Module For Marshall 5402 Time Modulator and AR-300 Tape Eliminator

In many cases, Marshall Time Modulators and AR-300 Tape Eliminators fail due to a dead analog delay module. These modules were manufactured by Marshall Electronic to stringent specifications, with the circuitry and component details never released to the public.

After investing a great deal of time in research and preparation, we have manufactured a small number of replacement modules.

This module can be used to replace the delay module in the AR-300 Tape Eliminator, or the #2 (Delays) module in the 5402 Time Modulator.

We'll include an instruction sheet that explains how to adjust the bias.

We have all parts for the Time Modulators, including the ADL-53 , which is used in both positions of the 5002A, and is the #1 module in the 5402.
Currently there are no reviews for this product. Share your opinion with others, be the first to write a review.