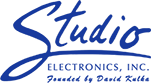 Your cart is currently empty
Used Jensen JE-11P-6 600-600 Ohm "Repeating" Line Input Transformer. IT
SKU:
JE.11.6
Stock:
Out of Stock
"
Used Jensen JE-11P-6 600-600 Ohm ""Repeating"" Line Input Transformer. Ideal for vintage and DIY-vintage 600 ohm input equipment, or for isolation of tie line inputs. A mounting bracket and screws are included. We'll also include a datasheet showing wiring and specs. One of these transformers has a ""ding"" on the top where it must have been hit by something, but this doesn't affect operation. Guaranteed to work perfectly.
A personal note: I had many contacts with Deane Jensen in the 1980's and the man was truly brilliant, and incredibly helpful to those around him. The audio industry lost Deane Jensen way too soon.
"
Currently there are no reviews for this product. Share your opinion with others, be the first to write a review.